Bank Wizard - Comprehensive Bank Account Validation
Improve Straight-Through-Processing of payments by reducing errors in your data up-front to minimise the number of rejected payments and the associated costs.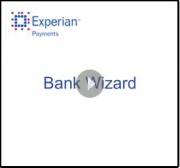 Bank Wizard is our unique bank account validation software which removes the problem of managing updates to complex and constantly changing payments data within your business systems.
Our dedicated Data Team identify and confirm changes to bank data on a weekly basis, meaning that updates can automatically be incorporated into your systems to ensure that you benefit from working with the most accurate and up-to-date information available.
Designed to be easily embedded within existing applications, the solution allows you to check the validity of bank details before you submit them to an automated clearing system.
Bank Wizard has over 80% coverage of worldwide SWIFT payments, including the whole of Europe. It has been implemented by some of the largest users of automated payment solutions.
Contact Us
Submit your details below and an Experian expert will be in contact with you shortly.
View our Privacy Policy for details on use and storage of your personal data.
*Denotes a required field